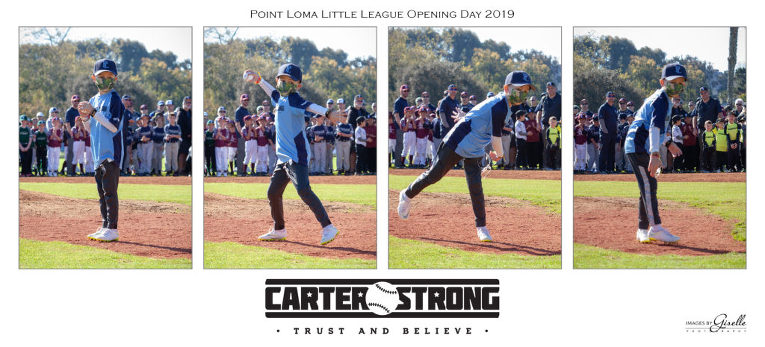 I had the honor of being asked to photograph a very special day at the Point Loma Little League fields.
This year's Opening Day ceremonies were going to be honoring a 5 year old warrior! Carter Santos is fighting and crushing his battle with Leukemia.
He was diagnosed in December and has had quite the journey. All of Point Loma and especially his friends at PLLL wanted to show him how much he is loved and supported.
The first idea was that we would create an image like the top one in which we would place his honorary team front and center and photograph all the participants. This was to be a surprise gift to him to let him know that he was in everyone's thoughts.
Well, we were all touched when Carter was able to make it to the ceremonies. He had a few good days that gave him the energy and excitement to be a part of the day. Not only did he get to watch the ceremonies from the score shack but he was able to come down to the field and throw out the first pitch!  Way to go Carter!!!
Play Ball!!!